Streamline your sales process
Start handling your leads
as soon as they come
Capture leads & auto-assign
Manually collecting leads in excel-sheets increases the chances of leads leakage. Integrate your sources with Bytepaper via APIs, to automatically start capturing leads. Set rules to auto-assign leads to your sales reps.
Maintain activities timeline
Maintain a timeline for all the actions performed on your leads like assigned agents, attended/ incoming or outgoing calls, triggered messages, followup comments, tasks and many more. Keep tracking the daily activities.
Automate triggers for engagement
Convey your message to your prospect even when you are not able to get in touch with them over the call. Integrate your APIs with Bytepaper to send messages with just a click. Keep ready to send templates for your team.
Build a sales process for your organization
A defined sales process is directly responsible for your conversion rate. Bytepaper Sales app helps you streamline everything from leads to the team. Start analyzing your sales reports and work on your data to get more results.
Followup process made easier
No more manual data management
Bytepaper keeps your data filtered. Categorize your data into - Active Leads, Clients and Dropped leads. Further divide your leads into - new leads, leads in followups, leads with active deals
Maintain lead interactions
Keep all the conversation and activities with your respective leads. Save all the followup comments, tasks, any triggered messages by any user.
Integrate your IVR
Integrate Bytepaper with your IVR and start capturing Incoming, Outgoing & Missed calls with recordings. Create new leads and log call in activity timeline. Set up workflow on how you want to assign your leads to your sales agents.
Log every call
Log all calls from your IVR as well as your phone
Create tasks
Create followup tasks and assign team members for your leads. Get notified.
Click to call
Integrate your IVR to directly place calls from the dashboard
Pipelines to manage ongoing deals
Multiple Deal pipelines
Sales pipeline lets you visualize your ongoing deals in different stages. Bytepaper provides the option to create multiple deal pipelines so you can handle your multiple business categories.
Deal closure
Get a calendar view of your upcoming closure dates with Bytepaper Sales. Help your agents set a closing date for all the opened deals. This will help you get a better understanding of your target completion as an organization.

Android app to work from anywhere
Capture calls, create new leads
Your phone is one of the major lead source. You can create new leads as soon as the call comes in. Bytepaper app will show the pop-up to save the call as new lead. Also, Bytepaper helps you to keep a followup log by capturing the interactions done (incoming/outgoing) with your leads.
More Features
Get notifications on the go
Followup with leads - add comments, set reminders
Open deals and work in pipeline view
Save picture inside your leads
Track every call log activity
Android App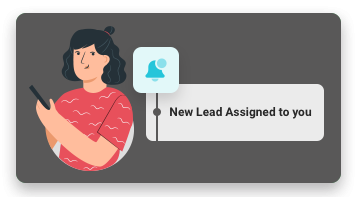 Stay on top your leads
Divide data into categories
Unlike excel sheets, segregate your data very easily into categories. Bytepaper divides prospects into - Leads, Clients and Dropped Prospects.
More filters
Filter your categories more into new leads, lead sources, in followups, leads with open deals, unassigned leads, attended and unattended leads and more.
Import bulk data
Quickly import your records from excel sheets with predefined format. Importa all details, segregate them into categories and auto-assign data to your agents.
Custom fields
Create as many custom fields to enter any additional information for your prospects. These fields can be text, dropdowns, time and date. Create relative fields to appear on a specific input.
Manage organizations
To save multiple prospects associated with one company - create organizations. Bytepaper lets you see all the deals created, won or lost with these organizations.
Products
Link your deals with your products to view stock out reports. Add your products or services with complete information like HSN number, SKU, unit price, Discount etc.
Set Sales Target
Set sales targets for your agents. Give them a value to achieve and the number of deals to close. View the deals creation and closure rates to analyze their performance.
Get daily work report
Bytepaper shares daily report with you on work done by your team, their followups, leads created and dropped, deals created, won and lost, login time and many more.
User reports
Analyze your agents' performance individually. Get reports on activities like - prospects created, follow-ups and tasks, dropped leads, deals report, targets vs achievements etc.